Ultimate Flora® Everyday Immune Probiotic 10 Billion Active Cultures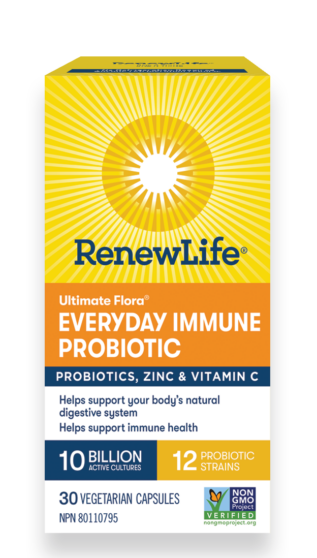 Ultimate Flora® Everyday Immune Probiotic 10 Billion Active Cultures
The key to supporting immune health every day? A healthy gut. Give yours the beneficial bacteria it needs to stay balanced with Renew Life® Ultimate Flora® Everyday Immune Probiotic—including 12 probiotic strains plus zinc and vitamin C.
TARGETED DIGESTIVE WELLNESS: This probiotic is formulated with ingredients to support immune health as well as your body's natural digestive system
CLINICALLY STUDIED STRAINS: Scientifically formulated blend with clinically studied strains.
IMMUNE HEALTH: 70% of your immune system lives in your gut; Renew Life® Everyday immune probiotic includes the #1 clinically studied probiotic strain for immune health†
WITH VITAMIN C & ZINC: Contains Vitamin C, the #1 Vitamin used for immune health, and zinc, the #1 mineral used for immune health*
Non-GMO Project Verified: Gluten Free, Dairy Free, Soy Free; Non-GMO Project Verified; easy-to-swallow, delayed-release capsules help the probiotics reach your gut alive; refrigeration not required
†Lactobacillus rhamnosus GG strain, PubMed Immune Clinical Trials Sept 2021 *2022 Mintel Data
Directions: Take 1 capsule, 1 time per day. Take with food, a few hours before or after taking other medications or natural health products. Take at least 2-3 hours before or after antibiotics. No refrigeration required. Store in a cool, dry place.
Each capsule contains

Bifidobacterium lactis (Bl-04®)

4.6 Billion CFU

Bifidobacterium lactis (HN019™)

2.7 Billion CFU

Lactobacillus plantarum (Lp-115®)

1.1 Billion CFU

Lactobacillus casei (Lc-11®)

0.8 Billion CFU

Lactobacillus acidophilus (NCFM®)

0.6 Billion CFU

Bifidobacterium lactis (Bi-07®)

0.5 Billion CFU

Lactobacillus rhamnosus (GG™)

0.3 Billion CFU

Lactococcus lactis (Ll-23™)

84 Million CFU

Lactobacillus paracasei (Lpc-37®)

80 Million CFU

Lactobacillus brevis (Lbr-35™)

46 Million CFU

Lactobacillus acidophilus (La-14®)

33 Million CFU

Bifidobacterium infantis (Bi-26™)

2 Million CFU

Vitamin C (as sodium ascorbate)

90 mg

Zinc (as zinc amino acid chelate)

11 mg
Non-medicinal Ingredients: Microcrystalline cellulose, Capsule (hypromellose, gellan gum), and Medium chain triglycerides. Cryoprotectants: Potassium phosphate, dibasic; Potassium phosphate, monobasic; Sodium chloride; Sucrose; Trehalose; Water. Gluten, dairy & soy free formula
Warning: Do not use this product if you have an immune-compromised condition (e.g AIDS, lymphoma, patients undergoing long-term corticosteroid treatment). If you have fever, vomiting, bloody diarrhea or severe abdominal pain, consult a health care practitioner prior to use. Stop use and consult a health care practitioner if symptoms of digestive upset (e.g diarrhea) occur, worsen and/or persist beyond 3 days.