Renew Life® Kids Throat Defense Probiotic, Orange Burst Flavour, 10 Billion Active Cultures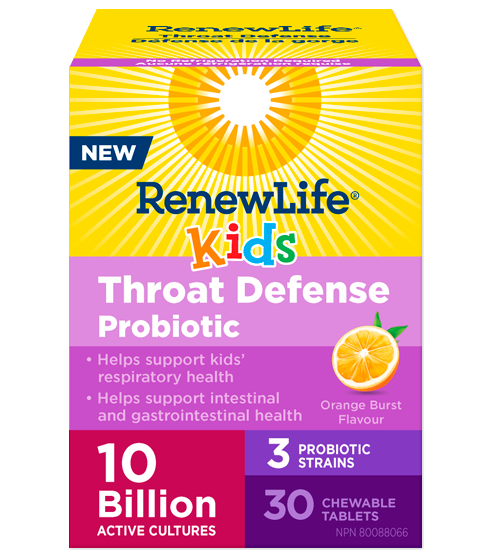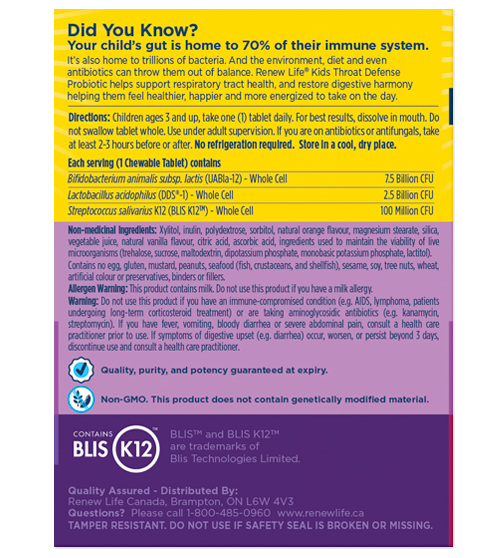 Renew Life® Kids Throat Defense Probiotic, Orange Burst Flavour, 10 Billion Active Cultures
Helps support kids' digestive and respiratory tract health.
Renew Life® Kids Throat Defense Probiotic is specially formulated for kids. This chewable probiotic is packed with 10 billion live cultures, featuring 3 clinically studied strains to support children's throat health and help strengthen little digestive systems. 90% of children aged 0-5 have experienced at least 1 throat infection*, making it the #1 reason for pediatrician visits.Renew Life® Kids Throat Defense Probiotic is a fast and easy way to support kids' throat health and help prevent issues before they start. * LIGHTSPEED GMI/MINTEL KIDS THROAT DEFENSE PROBIOTIC: Helps support kids' respiratory tract health, intestinal and gastrointestinal health with 10 billion cultures and 3 probiotic strains. ORANGE BURST FLAVOUR: Kids Throat Defense chewable tablets have a delicious orange flavour. CHEWABLE TABLETS: Fast melting chewable tablets in delicious Orange Burst Flavour. GOOD BACTERIA: Helps support digestive and respiratory tract health. NON GMO: This product does not contain genetically modified material.
Directions: Children ages 3 and up, take one (1) tablet daily. For best results, dissolve in mouth. Do not swallow tablet whole. Use under adult supervision. If you are on antibiotics or antifungals, take at least 2-3 hours before or after. No refrigeration required. Store in a cool, dry place.
Bifidobacterium animalis subsp. lactis (UABla-12) - Whole Cell

7.5 Billion CFU

Lactobacillus acidophilus (DDS®-1) - Whole Cell

2.5 Billion CFU

Streptococcus salivarius K12 (BLIS K12TM) - Whole Cell

100 Million CFU
Non-medicinal Ingredients: Xylitol, inulin, polydextrose, sorbitol, natural orange flavour, magnesium stearate, silica, vegetable juice, natural vanilla flavour, citric acid, ascorbic acid, ingredients used to maintain the viability of live microorganisms (trehalose, sucrose, maltodextrin, dipotassium phosphate, monobasic potassium phosphate, lactitol). Contains no egg, gluten, mustard, peanuts, seafood (fish, crustaceans, and shellfish), sesame, soy, tree nuts, wheat, artificial colour or preservatives, binders or fillers.
Allergen Warning: This product contains milk. Do not use this product if you have a milk allergy. Warning: Do not use this product if you have an immune-compromised condition (e.g. AIDS, lymphoma, patients undergoing long-term corticosteroid treatment) or are taking aminoglycosidic antibiotics (e.g. kanamycin, streptomycin). If you have fever, vomiting, bloody diarrhea or severe abdominal pain, consult a health care practitioner prior to use. If symptoms of digestive upset (e.g. diarrhea) occur, worsen, or persist beyond 3 days, discontinue use and consult a health care practitioner.