FloraSMART® Regular Strength, 2 Billion Active Cultures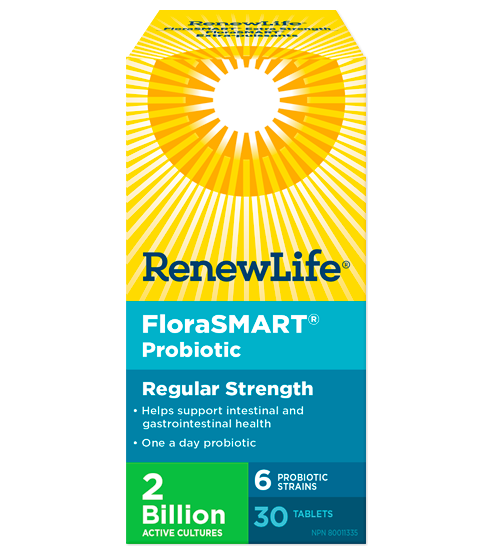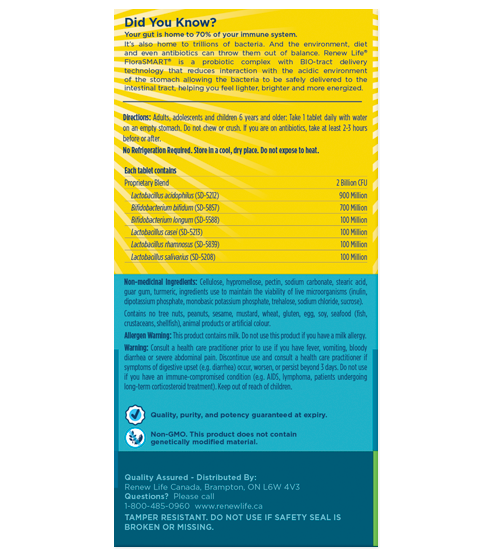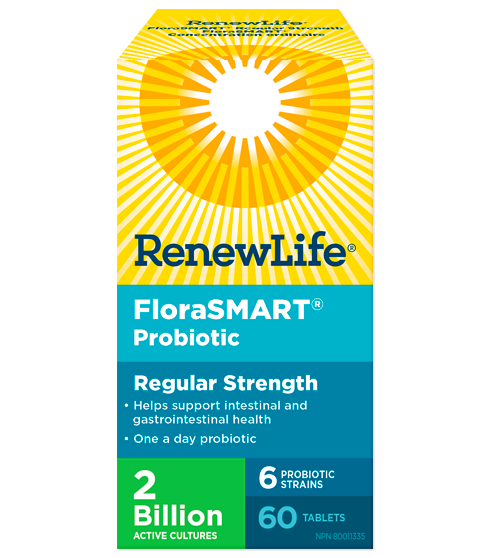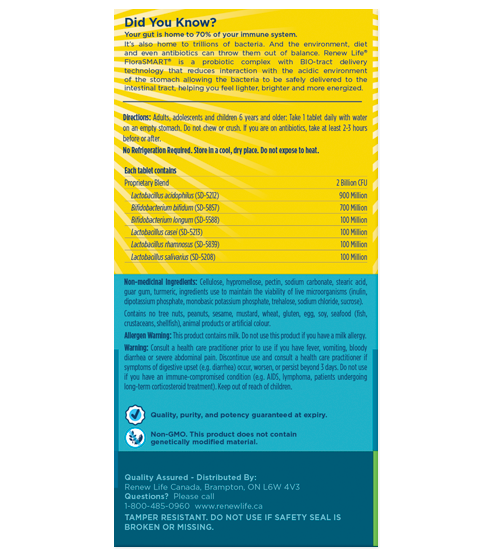 FloraSMART® Regular Strength, 2 Billion Active Cultures
FloraSMART® Regular Strength 2 Billion helps support intestinal and gastrointestinal health.
A multi-strain probiotic blend that provides 2 billion live bacterial cultures in a convenient once a day capsule with NO refrigeration required. Contains 6 different strains of live bacteria, with a combination of both Lactobacillus (1.2 billion active cultures) and Bifidobacterium (800 million active cultures) strains. DAILY PROBIOTIC: Helps support intestinal and gastrointestinal health. GOOD BACTERIA: Source of probiotics that could promote a favourable gut flora. DELIVERY SYSTEM: BIO-tract® delivery system protects the probiotic bacteria from the harsh stomach acid to ensure the safe passage of the live bacteria to the intestines. CONTAINS NO: Gluten or artificial colours. NON GMO: This product does not contain genetically modified material.
Directions: Adults, adolescents and children 6 years and older: Take 1 tablet daily with water on an empty stomach. Do not chew or crush. If you are on antibiotics, take at least 2-3 hours before or after. No Refrigeration Required. Store in a cool, dry place. Do not expose to heat.
Proprietary Blend

2 Billion CFU

Lactobacillus acidophilus (SD-5212)

900 Million CFU

Bifidobacterium bifidum (SD-5857)

700 Million CFU

Bifidobacterium longum (SD-5588)

100 Million CFU

Lactobacillus casei (SD-5213)

100 Million CFU

Lactobacillus rhamnosus (SD-5839)

100 Million CFU

Lactobacillus salivarius (SD-5208)

100 Million CFU
Non-medicinal Ingredients: Cellulose, hypromellose, pectin, sodium carbonate, stearic acid, guar gum, turmeric, ingredients use to maintain the viability of live microorganisms (inulin, dipotassium phosphate, monobasic potassium phosphate, trehalose, sodium chloride, sucrose). Contains no tree nuts, peanuts, sesame, mustard, wheat, gluten, egg, soy, seafood (fish, crustaceans, shellfish), animal products or artificial colour.
Allergen Warning: This product contains milk. Do not use this product if you have a milk allergy. Warning: Consult a health care practitioner prior to use if you have fever, vomiting, bloody diarrhea or severe abdominal pain. Discontinue use and consult a health care practitioner if symptoms of digestive upset (e.g. diarrhea) occur, worsen, or persist beyond 3 days. Do not use if you have an immune-compromised condition (e.g. AIDS, lymphoma, patients undergoing long-term corticosteroid treatment). Keep out of reach of children.